An Independent Electoral Commission engaged the services of a lawyer to represent the commission for litigation purposes as such counsel learns confidential information. Before this engagement, counsel had represented the adverse party in a similar capacity but did not disclose the same to the commission bearing in mind that one of the commission's codes of conduct upon engagement, is that counsel must not have represented an adverse party around the country.
Legal Tips drew the attention of the colleague to the provision in the Rules of Professional Conduct that states that counsel must not accept any engagement if it is likely to be adversely affecting the representation. In Nigeria, Part B of the RULES OF PROFESSIONAL CONDUCT FOR LEGAL PRACTITIONERS, 2007 regulates conflict of interest. Rule 17(4) states as follows: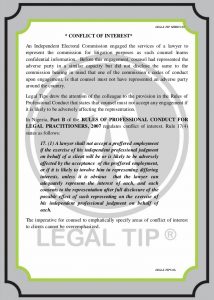 (1) A lawyer shall not accept a proffered employment if the exercise of his independent professional judgment on behalf of a client will be or is likely to be adversely affected by the acceptance of the proffered employment, or if it is likely to involve him in representing differing interests, unless it is obvious that the lawyer can adequately represent the interest of each, and each consents to the representation after full disclosure of the possible effect of such representing on the exercise of his independent professional judgment on behalf of each.
The imperative for counsel to emphatically specify areas of conflict of interest to clients cannot be overemphasized.
LEGALTIPS is anchored by Ms CIA Ofoegbunam, an Abuja-based lawyer who is passionate about legal practice.
LEGALTIPS offers quick hints on substantive law, as well as rules of practice and procedure, and serves as a handy reference guide to lawyers, especially in court.
Published on a weekly basis, the LEGALTIPS Series is CIA's modest contribution to legal development in Nigeria.