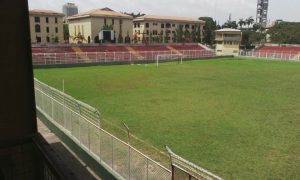 Lawyers in Lagos may close their offices early today at 3pm as usual in view of the NBA Lagos branch novelty match commencing at 3:30pm at Onikan Stadium in Lagos.
The football match which holds annually to herald the beginning of a Law week has been dubbed the funniest event among Lawyers in Lagos.
The event hit popularity when Mr Adams now a Judge of the High Court of Lagos state chose a team and led them to victory against members of Ikeja branch of the NBA in a  Law  week Chaired by Mr Babatunde Ajibade SAN.
In 2015, Lawyers also showed their football prowess when they defeated some local players at the Campos stadium in Lagos Island.
This year's Law week is Chaired by Kemi Balogu SAN and Femi Fajolu as co-Chair.Lawyers in Lagos have already keyed into the annual excitement that gives them the permission to rumble and tumble in excitement.Many Lawyers in practice and across all law firms are expected to be there by 3pm to step down stress.
A cocktail party will follow immediately  after the match which will be made up of male and female players for the first time.
The schedule of events as released by Philip Njeteneh is as follows
NOVELTY MATCH PROGRAMME
3.45PM- Guests are seated
3.50pm – Introduction of Special Guests, Match Officials & other dignitaries
4.00pm – Line Up of players & Match Officials
4.02pm – National Anthem
4.05pm – Kick Off
4.50pm – Presentation of Winners & Runners Up Medals
5.00pm – Closing Remark by Branch Chairman