The Nigerian Bar Association (NBA) Section on Business Law (SBL) has extended the deadline for registration for Lawyers Got Talent to 23rd June 2023.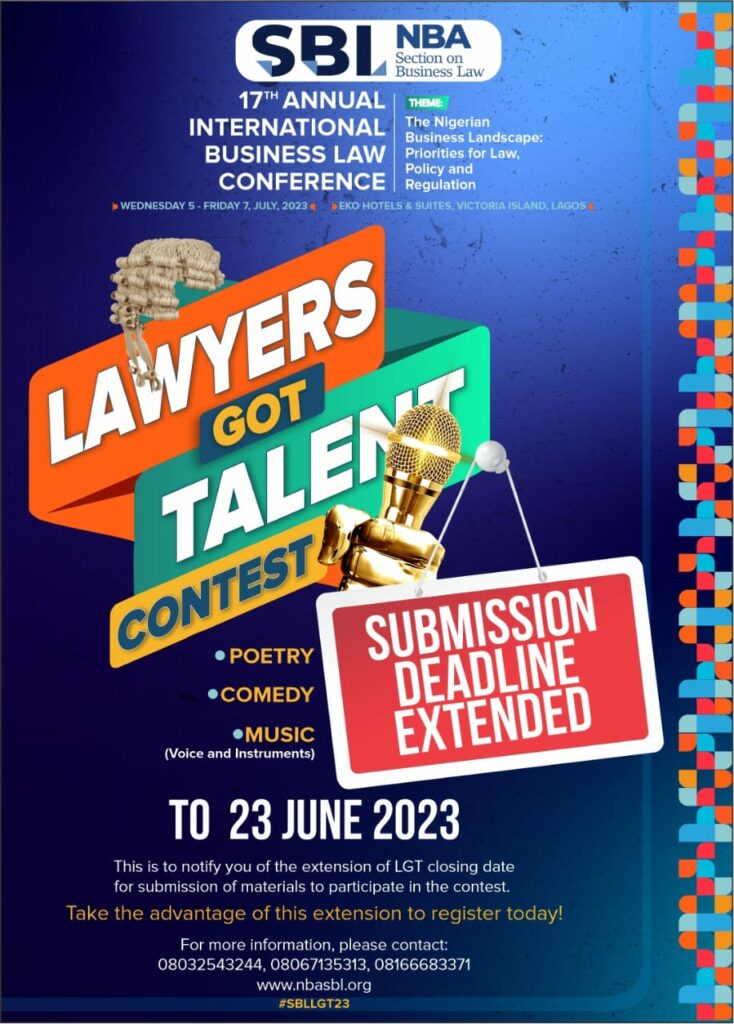 This decision to extend the deadline was made after the widespread acceptance of the competition and indications of interest.
In the press release communicating the extension, the body also said that the extension will help participants prepare better to show off their talents and special skills.
The statement reads in part:
We believe that this talent show provides a unique platform for lawyers to display their abilities outside the legal realm and challenge the stereotypical perception of our profession. It is an opportunity for you to shine and demonstrate your diverse talents to a captivated audience of legal professionals.
How to register for Lawyers Got Talent:
Create a 2-minute video showcasing your talent, save it in your Google Drive, and email the link to nbaseconbusinesslaw@gmail.com .
Also include your full name, phone number, year of call, SCN, and evidence of payment of the conference registration fee. Please ensure that the sharing permission for the video in your Drive allows access (to anyone with the link) for the judging proces
Prizes for the competition
1st Prize: N1,000,000.00 (One million Naira Only)
2nd Prize: N750,000.00 (Seven Hundred and Fifty Thousand Naira)
3rd Prize: N550,000.00 (Five Hundred and Fifty Thousand Naira)
We encourage you to take advantage of this extended deadline and secure your eligibility for this exciting talent showcase. It promises to be an unforgettable evening, and we look forward to witnessing outstanding performances from our talented colleagues.
For additional information, sponsorship opportunities, or exhibition inquiries, please do not hesitate to contact the NBA-SBL secretariat through the following channels:
WhatsApp numbers: 08115984575, 08095174000
Call line: 09038000095
Email: info@nbasbl.org
Stay connected with the NBA-SBL via:
Instagram: @nbasbl
Twitter: @nbasblofficial
LinkedIn: Nigerian Bar Association Section on Business Law