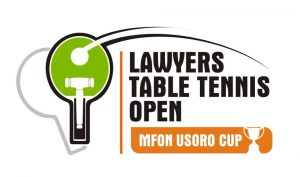 The 2017 finals of Lawyers table Tennis open(Mfon usoro cup) will hold on Saturday 23rd of September at the National Stadium, Lagos. The facilities of the Nigerian Table Tennis Federation will be available to lawyers for training every Saturday from the 5th of August .More than thirty lawyers already have shown interest to participate in the big event as registration continues.
Click to register for the 2017 Lawyers Table Tennis Open(Mfon Usoro cup)
This year's event is dedicated to creating awareness on prostrate and Ovarian cancer.
Lawyers from different parts of  Nigeria are expected to attend.More than 13 million Naira has been won in prize money since inception of the tournament in 2009 including free tickets to International Bar Association conferences.The event is open to both male and female Lawyers.
With a desire to build an organised lawyers games, the promoters of Lawyers Table Tennis Open(Mfon Usoro)cup will this year include Tennis(It is no longer called Lawn Tennis),Chess and Scrabble to the competitions.
According to Anthony Atata, the founder of Lawyers Table Tennis Open (Mfon Usoro) cup and Lawyersgames.com, the idea is to promote healthy living among lawyers through sports. Lawyers Table Tennis Open founded in 2009 has been the biggest sporting event among lawyers in Nigeria with Lawyers coming from different parts of the country to compete. The introduction of other sports is aimed at accommodating other interests in sports outside table Tennis. A mini cycling competition has been held before in 2014 in conjunction with Native Chiefs cycling club and plans are in the offing to revive it.
Sign up- Join other African Lawyers here as we build the most profitable listing of lawyers in Africa
Mr Atata said the Chess competition will have both men and women playing in the same game.He said that the chess competition will be blind to gender since chess is a mental game rather than physical. More female lawyers seem to welcome this plan than men. When asked why the organisers have decided to play both men and women in the same event, Mr Atata has this to say
"If you say that women and men should not compete together in physical sporting events like football, cycling, sprint etc, you are suggesting that one gender is physically stronger than the other. You may be right. If you say that men and women should not compete together in mental sports like Chess and Scrabble, you are suggesting that one gender is more intelligent than the other. Whichever you think is more intelligent, you are wrong."