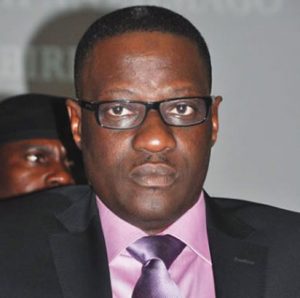 The Abuja Division of the Court of Appeal, on Tuesday, reserved judgment on a suit seeking to sack governor Abdulfatah Ahmed of Kwara State from office. Gov-Abdulfatah-Ahmed The suit was filed by candidate of the Peoples Democratic Party, PDP, in the 2015 governorship election in the state, Senator Simeon Ajibola.
A three-man panel of Justices of the appellate court led byJustice Peter Ige adjourned for judgment after it heard arguments from all the parties yesterday. The PDP candidate had gone before the appellate court to challenge a verdict of the Federal High Court in Abuja which had on April 15, 2016, validated governor Ahmed's election. Ajibola had in his suit, insisted that governor Ahmed was not validly nominated by the All Progressives Congress, APC, to participate in the 2015 gubernatorial contest. Aside his contention that APC failed to comply with provisions of the Electoral Act by not issuing a valid notice before its primary election was held, the appellant prayed the court to sack Ahmed and declare him governor of Kwara state since he emerged second in the gubernatorial contest. The suit was however dismissed by the high court which held that the appellant lacked the locus standi to query the primary election that was conducted by the APC.Justice Evoh Chukwu who delivered the judgment, upheld preliminary objection governor Ahmed filed against the suit.
Dissatisfied with the high court judgment, Ajibola approached the appellate court to set it aside. In the appeal that was argued on his behalf by Mr. Dayo Akinlaja, SAN, Ajibola claimed that the lower court judge erred in law by throwing out his suit through a preliminary objection. He urged the appellate court to void the APC primary elections and declare him governor of the state, insisting that contrary to the claim of the first respondent, his appeal has not become academic. Other respondents in the matter are the APC and INEC.
While adopting their respective briefs of argument yesterday, all the respondents asked the appellate court to dismiss the appeal for want of merit. Governor Ahmed who argued through his lawyer Mr. Adebayo Adelodun, SAN, discribed the appellant as "a busy body and a meddlesome interloper" He maintained that the appellant had no right under any law to inquire into how primary election of another political party was conducted.
He told the court that the appellant did not challenge the outcome of the April 11, 2015 governorship election because he (Ajibola) was humiliated with two hundred and ninety five thousand, eight hundred and thirty two (295832) votes to one hundred and eleven thousand two hundred and twenty (111220) votes. Consequently, the 1st respondent urged the court to dismiss the appeal and award substantial cost against the appellant. After they had listened to arguments from all the parties, Justice Ige said the judgment date would be communicated to them by the court.