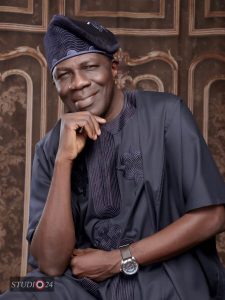 "Happy birthday to you sir! You have always been a great source of inspiration/role model to me…it is with great love in my heart that I celebrate you on this great day! ….may you continue to look graceful sir! May the good LORD continue to bless you and keep you in good health!…..happy birthday to you sir! GOD bless you…..we love you sir!"   Don Excalibur-
Today is Justice Taiwo O Taiwo's birthday. Within a space of two hours after the notification hit the social media,more than 500 likes, loves and comment followed his profile. "This is unprecedented" according to Anthony Atata the founder of courtroom mail who has been tracking the social media popularity of top lawyers in Nigeria.
Taiwo o Taiwo is a Judge of the Federal High Court in Nigeria but that is not why many lawyers are excited about his birthday. Justice Taiwo has served the Nigerian Bar association in different capacities including serving as the Chairman of the biggest branch of the association which is Lagos and has also served as a Vice President at the National Level.
Sign up and get listed for free on the largest listing of lawyers in Africa.It is profitable
However, all these have nothing to do with encomiums coming in from home and abroad on the occasion of his birthday. Justice Taiwo before he became a Judge was one of the most accessible senior Lawyers in Nigeria. He has mentored and supported many Junior Lawyers in Nigeria who are now doing well in their different endeavours. He is a humble man, friendly and fearless. Most importantly, he is decisive. He is a man with a large heart , a good man, a brilliant lawyer and Judge that even people who have chosen not to like him admire him in their lucid interval.