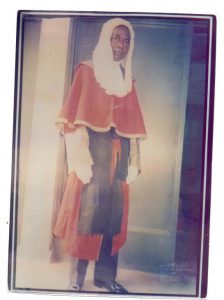 Nigeria's legal community has been thrown into mourning as Justice Ferdinand Ukattah passes on.He was the first Chief Judge of Abia State and indeed the longest serving Chief Judge in Nigeria's history.
Burial has been slated for the 9th of December  2016.
The late Honourable Justice Ferdinand Ifenkwe Ewelike Ukattah (Rtd) was born on 10 September 1933 to the family of late Mr and Mrs Ukattah Nkor in Isiala Ahaba Oloko Autonomous Community, Ikwuano LGA, Abia State. As a young child, the late Ifenkwe (as he was fondly called by his Kin) commenced his educational odyssey at Catholic School Oloko (1939-1943), from there he proceeded to Umuigu Group School (1944-1945) and completed his primary education at Ndoro Central School (1946-1947). For his secondary education, he attended Okirika Grammar School, Okirika, Rivers State (1957-1960) and graduated with flying colours. His brilliance and knack for knowledge led to his travelling to the United Kingdom in September 1957 to attend the prestigious University of Hull, Yorkshire (1957-1960) for his Bachelor of Laws degree (LLB), where he graduated as one of the best graduating students in his class with a Second Class, Upper Division. Barely 24 months after his arrival in the United Kingdom, he passed his Bar Final Examination in September 1959 and was called to the English Bar on 17 May 1960. He returned to Nigeria in August 1960 and was enrolled as a Solicitor and Advocate of the Supreme Court of Nigeria. He thereafter set up a successful private legal practice in Umuahia, Abia State. After 16 years of successful legal practice, the late Ifenkwe was elevated to the Bench as a Judge of the High Court of Justice of the Old Imo State of Nigeria in 1976. He served diligently and with integrity as a Judge of the Old Imo State for 13 years (1976-1989) until his appointment as the acting Chief Judge and later as the substantive Chief Judge of the Old Imo State in 1989. He served as the Chief Judge of the Old Imo State from 1989-1991 and upon the creation of Abia State in 1991, he was appointed as the pioneer Chief Judge of Abia State; a position he held until his formal retirement in 1998 upon the attainment of the mandatory retirement age.
Apart from his illustrious legal career, the late Ifenkwe also had a brief foray into politics which culminated into his being elected and serving as a Member of the Eastern House of Assembly from 1961-1966. In his bid to significantly contribute to the development of his community, State and country, the late Ifenkwe, at various times, held several positions such as: Member, Board of Governors, Niger Gas Ltd, Emene, Enugu State (1966-1976) and Member, Price Control Board, Old Imo State (1976). He was also Member, Board of Governors, Teachers' Training College, Uzuakoli (1975-1976), Chairman, Board of Governors, Ibeku High School, Umuahia (1975-9176) and Chairman, Urban Council, Old Imo State (1975-1976). In recognition of his integrity and forthrightness, he was appointed in 2004 by former President, Olusegun Obasanjo, as the Chairman of the Judicial Panel of Enquiry to investigate the death of the late National Vice Chairman (South-South) of the Peoples' Democratic Party (PDP), Chief Aminasoari Dikibo.
The late Ifenkwe was also an avid writer and is the author of the legal text 'Law in Action'. He loved reading, writing and farming and had much love and respect for his fellow man. He was a husband, father, grandfather and great grandfather. He will be buried at his home town on 9 December 2016.