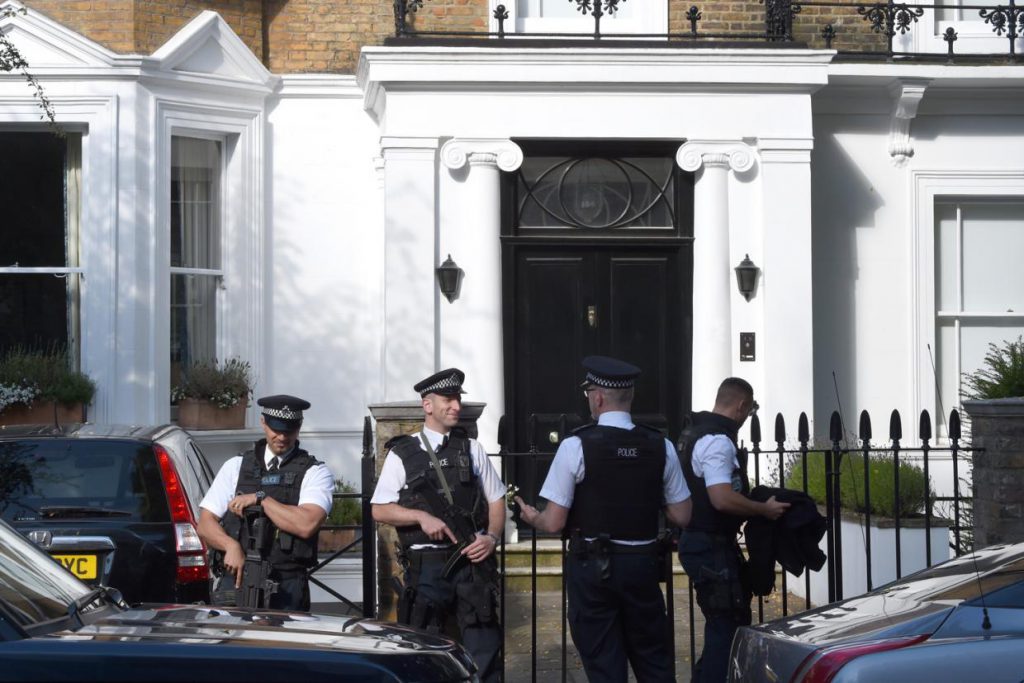 The former Prime Minister and his family have swapped Downing Street for the seven bedroom terraced house, on one of the most expensive streets in the capital.
They arrived on the tree lined street under an armed police escort shortly after Mr Cameron gave speech outside Number 10 yesterday afternoon.
The three storey, six bathroom and three reception room property was bought in 2014 for £16.5million by their friends, PR mogul Sir Alan Parker and his wife Lady Jane Hermione Parker.
Two armed police officers were stationed outside today and officers were carrying out regular sweeps of the street in marked police cars and vans.
David Cameron and his family today left the Holland Park address and headed off on the school run.
Wearing a casual blue, open necked blue polo shirt and blue smart casual jacket and jeans he jumped into the back of a Blue Land Rover, flanked by his security detail at 8.45am.
His wife Samantha and the couple's three children Nancy, Elwyn and Florence all got in the same vehicle. A smiling Mr Cameron looked relaxed after the tumultuous end to his stint in Downing Street and was clutching one of the children's school bags.
"We have lots of aristocrats around here all the time"A neighbour
Heavily armed police escorted the car away as neighbours and passers looked on. Samantha Cameron was dressed casually in a grey t-shirt and dark trousers with a blue handbag.
One neighbour said: "We knew there was someone big there but we had no idea it was David Cameron, they managed to get them in without being seen. There have been loads of police here, it's probably the safest street in London."
Mr Cameron and Sir Alan, chairman of Brunswick Group, have holidayed together, and the Camerons were invited to his wedding to Lady Jane in 2007.
Mr Cameron and his wife Samantha  have wanted to stay in London so their children Nancy, 12, Elwyn, 10, and Florence, five, can easily continue their schooling.
It is unclear if it is a short term stay for the Camerons while they continue to look for a place to rent in the capital, or they will stay there longer-term while their other home in Notting Hill is rented out.
No neighbours saw removal vans arrive at the property yesterday.
The Camerons' new neighbours on the street, which has an average price of more than £6million and where homes can fetch up to £33million, spoke of their excitement at their arrival.
One neighbour, who did not wish to be named, told the Standard: "I left the house to go shopping and then came back and the police had magically appeared.
"We have lots of aristocrats around here all the time so we just assumed it would be another one visiting.
David Cameron's daughter Florence once climbed into ministerial red box and said 'take me with you' on foreign trip, PM reveals
'I was the future once': David Cameron's touching closing words at his final PMQs
The picture David Cameron hopes will prove his love of Larry the Downing Street cat
"We're not street party people but we do have residential garden parties. But the Camerons just missed out on those-they happen before the children break up from school.
"It's fascinating, after what's been going on in the past few days nobody knows what's happening in politics but it's still surprising to have the Camerons move in over the road.
"We have private security going around and everyone's asking if they are moving in."
The neighbour issued a warning for the Camerons and urged them to join the neighbourhood watch after a series of burglaries and car thefts on the road.
She added: "There's always people breaking into cars they target people on their mopeds.."
Another resident whose home lies directly opposite the Camerons' new pad wasn't so keen on the new neighbours.
She told the Standard: "I was worried when I saw all the police I thought there had been a shooting or something.
"It's a lovely house over there and it sold quite recently. I have been living her for 12 years but I never knew who lived there before.
"I like David Cameron but I'm not sure I want him living on my street.
"There could be added security risks and I certainly don't want armed policeman stationed out there all day and night with my children around."
Parked in the driveway of the flat was a black five door Honda CRV. Many neighbours had Porsches and other high end vehicles outside their homes.
A source today confirmed that the Camerons were staying in Holland Park.
He said: "The neighbours are in the dark over this. The Camerons were brought in very quickly and the first thing people knew was the police presence around the house."
standard.co.uk