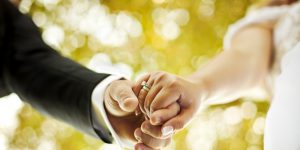 A newly-married bride was reportedly left in "overwhelming despair" after she discovered her husband was also her biological grandfather.
The couple made the discovery three months after they tied the knot while flicking through a photo album when they realised the man's son was also the bride's father, the Florida Sun Post reported.
The man, 68, a millionaire who lives in a waterfront home in Miami's Golden Beach, proposed to the 24-year-old on New Year's Eve after they met through an online dating website.
He had apparently became estranged from the children in his first marriage and had moved away after his second marriage ended in divorce when he scooped "several million dollars" as a lottery prize.
Looking for companionship, he signed up to a dating website and struck up a relationship with a 24-year-old woman from Jacksonville who said she was kicked out of her family home.
Three months after they tied the knot, the couple reportedly discovered their family connection while looking through family pictures.
According the Florida Sun Post, the woman said: "When I saw my father in that photo album, I just felt an overwhelming sense of despair."
And despite the shocking the discovery, the couple apparently have no plans to divorce.
The man told the newspaper: "I've already had two failed marriages, and I'm determined not to have a third."