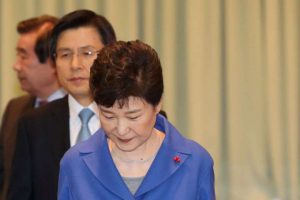 The court tasked with validating the impeachment of South Korean President Park Geun Hye said on Friday (Dec 30) that she would not be required to appear for questioning.
But the Constitutional Court said Ms Park's close friend Choi Soon Sil, the media-dubbed "Rasputin" at the centre of the corruption scandal that triggered the President's downfall, must submit for questioning on Jan 10.
The National Assembly, which passed a motion to impeach Ms Park earlier this month, had asked the court to summon Ms Park and question her directly.
"The request… is rejected," the court said.
The court has 180 days to consider Parliament's impeachment motion and its president Park Han Chul said in a New Year message that it would seek to make a decision "at an early date".
 If the impeachment is confirmed, a presidential election will have to be held within 60 days.
Ms Park is accused of colluding with Choi to strong-arm companies into handing over tens of millions of dollars to dubious foundations which Choi controlled.
Choi has been formally indicted on charges of abuse of power and extortion.
straitstimes.com