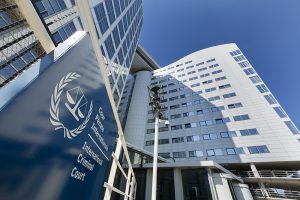 South Africa has become the second African country to announce that it plans to leave the International Criminal Court, a decision that campaigners for international justice say could lead to a devastating exodus from the embattled institution.
The move on Friday came three days after Burundi's president signed a decree making his country the first to withdraw from the court, which had planned to investigate political violence that followed the president's decision last year to pursue a third term.
"There is a real chance that there will now be large-scale African withdrawals," said David L. Bosco, an associate professor of international studies at Indiana University who has written a book on the court. "The Burundi decision was easy to dismiss as a government seeking to avoid direct scrutiny; South Africa's is much more significant. The African Union has been a forum for anti-I.C.C. sentiment, and countries like Kenya and Uganda may now seek to capitalize on the momentum."
Henry Oryem Okello, a Ugandan minister, told The Associated Press on Friday that his country was "undecided" about whether to remain in the court, and that the "hot issue" of African participation might be taken up at an African Union summit meeting in January.
Several African leaders and other critics say the court — tasked with prosecuting war crimes, crimes against humanity and genocide — has disproportionately focused on Africa. All of the people it has convicted so far are Africans, though the court has initiated preliminary investigations in other countries, like Georgia and Afghanistan.
But the court also has supporters in the region. At an African Union summit meeting in July, the Democratic Republic of Congo, Ivory Coast, Nigeria, Senegal and Tunisia were among the countries that opposed a Kenyan-led drive for a group walkout from the tribunal.
On Friday, a statement by 25 African-based human rights and legal groups called on the Pretoria government to reconsider its decision. Stella Ndirangu of International Commission of Jurists-Kenya said a withdrawal without a public debate "is a direct affront to decades of progress in the global fight against impunity."
South Africa signaled its discontent last year, saying it would leave the court in response to criticism that it had ignored an order by the tribunal to arrest President Omar Hassan al-Bashir of Sudan.
Mr. Bashir, who faces charges of war crimes, crimes against humanity and genocide in the Darfur region of Sudan, was allowed to leave South Africa after a visit last year, even though a local court had ordered the government to prevent his departure because of a warrant for his arrest. (Mr. Bashir has denied the accusations.)
Under the Rome Statute, the 2002 treaty that established the court, countries are obligated to arrest anyone sought by the tribunal. "Legal uncertainty" around the statute blocks South Africa from resolving conflicts through dialogue, including inviting adversaries for visits, Justice Minister Michael Masutha said, and handing over a foreign leader to the court would have amounted to an infringement of South Africa's sovereignty.
The Rome Statute "is in conflict and inconsistent with" South Africa's law giving sitting leaders diplomatic immunity, Mr. Masutha said at a news conference on Friday.
After South Africa sought unsuccessfully to clarify its responsibilities under the statute, a "difficult choice had to be made," Mr. Masutha said. He added that the government would submit a bill to Parliament to withdraw from the international court.
Foreign Minister Maite Nkoana-Mashabane formally notified the United Nations secretary general, Ban Ki-moon, this week of South Africa's intention to withdraw from the court. Leaving it would take about a year.
Richard Goldstone, a former justice of the Constitutional Court of South Africa, called the notice of withdrawal "unfortunate on legal, moral and political grounds."
Observers note that African governments overwhelmingly supported the creation of the court, which came at least in part in response to the Rwandan genocide of 1994 and the Balkan wars of the 1990s. (The crimes of those conflicts were tried by separate tribunals.)
But in recent years, support for the court has waned, particularly after it indicted top Kenyan politicians, including the president and vice president, on charges stemming from postelection violence in 2007. The cases collapsed because of witness intimidation, bribery and a lack of cooperation, according to prosecutors.
Since 2011, the court's top prosecutor has been Fatou Bensouda, a lawyer from Gambia, who often points out that six of the nine African cases handled by the court were brought by African governments and that two were referred by the United Nations Security Council. Only the Kenyan cases were initiated by the court's prosecutors.
Nonetheless, some African leaders have called the court an instrument of modern colonialism, noting that all of those convicted have been Africans: Thomas Lubanga, a Congolese warlord who conscripted child soldiers; Germain Katanga, a Congolese militia leader, an accomplice to war crimes; Jean-Pierre Bemba, a Congolese politician, found guilty of war crimes, crimes against humanity and — this week — witness tampering; and Ahmad al-Faqi al-Mahdi, a member of a Qaeda-linked jihadist group, who destroyed holy sites in Timbuktu, Mali, and was convicted of destruction of cultural heritage as a war crime.
Including Burundi, the court has 124 members, 34 in Africa.
Professor Bosco said the focus on Africa was partly a result of the difficulties of conducting inquiries in other places, like Afghanistan, the Palestinian territories and Colombia, and partly a reflection of the prosecutorial strategy of going after the high-level perpetrators. "In Sudan, Kenya and Libya, that meant going after heads of state and senior ministers," he said. "That choice generated a lot of anger in African capitals, where court processes were seen as an obstacle to diplomacy."
Stephen J. Rapp, a former United States ambassador at large for global criminal justice, called the decisions by Burundi and South Africa "a betrayal of the victims of atrocious crimes."
He said in a telephone interview from Tanzania: "What we have here is an attempt to protect the leaders accused of horrible crimes in Burundi, Darfur, and Kenya among others and a continuation of impunity, but nothing for the people who are suffering from the crimes."
nytimes.com