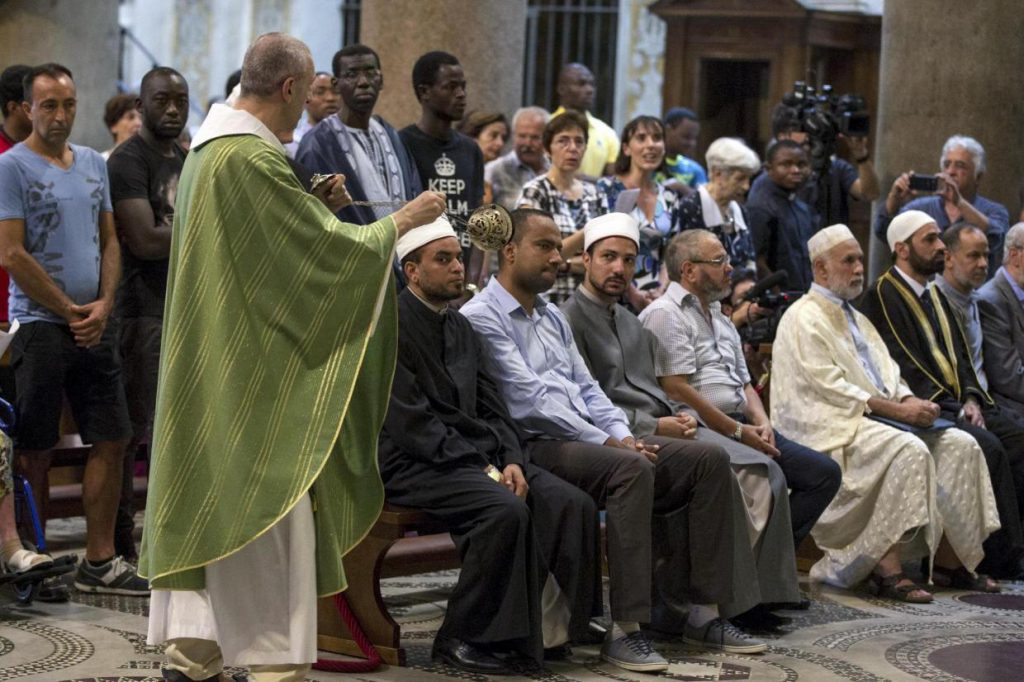 Hundreds of Muslims have attended Catholic Mass in churches across France and elsewhere following this week's murder of a priest.
Father Jacques Hamel was slaughtered at his church in Saint-Etienne-du-Rouvray near Rouen by two Islamic extremists who pledged allegiance to Isis.
This weekend, local media reported up to 200 Muslims joined a Mass at Rouen, with more travelling to Notre Dame Cathedral in Paris.
It came after France's Muslim Council had urged followed to show solidarity following the murder.
Archbishop of Rouen, Dominique Lebrun, told BFMTV: "We're very touched.
"It's an important gesture of fraternity.
"They've told us, and I think they're sincere, that it's not Islam which killed Jacques Hamel."
In Bordeaux, Tareq Oubrou from the local mosque took a dozen worshippers to church.
And in Lens, around 30 Muslims went to Mass wearing t-shirts with the message: "Terrorism has no religion or identity."
A similar gesture was carried out at churches in Italy today.
The show of support came as Muslim leaders refused to bury Adel Kermiche, one of the killers.
Mohammed Karabila, president of the local Muslim cultural association told La Parisien: "We won't participate in preparing the body or the burial."
Worshipper Khalid El Amrani said: "'What this young man did was sinful. He is no longer part of the community."
standard.co.uk