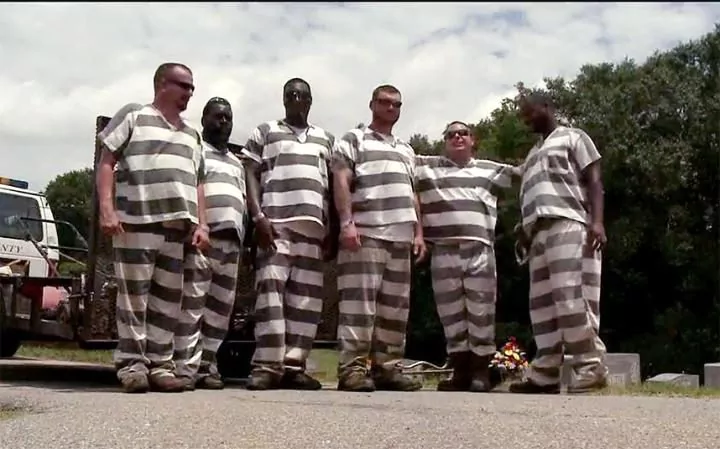 Six prisoners in Georgia have had their sentences cut by a quarter as a thanks for coming to the aid of a prison guard who collapsed with a heart attack.
The six men were working outdoors in Polk county, Georgia, when their guard collapsed.But, instead of grabbing his gun or running off, they helped him.
One inmate used the guard's phone to call 911 while the others removed the guard's bullet proof vest to cool him off, according to a Facebook post from the Polk county sheriff's office.
Greg Williams, one of the prisoners, said that the guard collapsed and initially stopped breathing.
"When he started breathing again, it was just real heavy and real fast," said Williams.
"When that happened, in my opinion, it wasn't about who is in jail and who wasn't.
"It was about a man going down and we had to help him."
The prison guard was well known to the men, having supervised them as they worked outside for seven hours a day, five days a week. The day of his heart attack was warm, with temperatures of 24 degrees C, and very high humidity.
"We spend a lot of time together," he told local news channel WKYC.
"I started coughing spells, and every time I got those, I'd get hotter.
"It was just harder to keep up. I just finally went down after a couple of minutes doing that."
The unnamed guard said he realised he was "in one of my hyperventilating spells".
"So at that point, I was just trying to breath. I really wasn't thinking much, but just trying to get everything under control."
And he praised the inmates for coming to his rescue.
"None of my guys ran," he said. "None of them did anything they shouldn't have done."
The news of the prisoners' response came a week after two inmates at another prison murdered their guard before escaping, spending two days on the run before they were captured, 260 miles away. On Wednesday prosecutors said they would be seeking the death penalty for Ricky Dubose and Donnie Rowe.
But in Polk county, a spokesman for the sheriff's office contrasted the two incidents.
"As we watched the horrific manhunt this week of the two inmates that killed two correctional officers and were captured last night we all know that Monday could have ended differently for our officer," the spokesman said.
"We are very proud of the actions of all six inmates involved."
The inmates were rewarded with an outdoor lunch consisting of pizza, Coca Cola and desserts prepared by the officer's family members.
"They really stepped up in a time of crisis and showed that they care about my officers," said Johnny Moats, sheriff of Polk county.
"That really speaks a lot about my officers too, how they treat these inmates. They treat them like people. Like family."
Telegraph