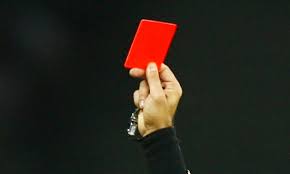 A Swedishfootballer was left stunned and shocked after being sent off for breaking wind during a match – an act labelled as "deliberate provocation" by the referee.
Left-back Adam Lindin Ljungkvist, who was already on a yellow card, was playing in the game between Järna SK's reserve team and Pershagen SK when he farted and, then, swiftly received his marching orders.
"I had a bad stomach, so I simply let go," the 25-year-old Pershagen defender explained to Länstidningen Södertälje. "Then I received two yellow cards and then red. Yes, I was shocked, it's the strangest thing I have ever experienced in football.
"I asked the referee, 'What, am I not allowed to break wind a little? 'No,' he replied. I don't get it but maybe he thought I farted in my hand and threw the fart at him. But I did not."
Confirming Ljungkvist's version of events, opposition striker Kristoffer Linde said: "I was standing a good distance away but I heard the fart loud and clear.
"It's the strangest thing I've seen on a pitch, and I've been playing football since I was eight years old."
The referee in charge, however, Dany Kako stood by his decision to send Ljungkvist off, saying he was sure the defender broke wind deliberately.
"I perceived it as deliberate provocation. He did it on purpose and it was inappropriate. Therefore, he received a yellow card," he said.
"Once there was a player who stood and peed next to the pitch. I showed him a yellow card, too."
However, Ljungkvist does not agree.
"To provoke anyone with a fart is not particularly smart or normal," he told told Aftonbladet. "It's nonsense – I just broke wind and got a red card.
"I spoke to the referee afterwards, I was annoyed, but there were no bad words. I just said he was a buffoon.
Evening standard