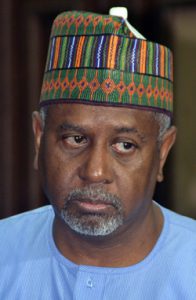 The Chief Judge of the High Court of the Federal Capital Territory (FCT), Justice Ishaq Bello, has ordered that the trial of former National Security Adviser (NSA), Col. Sambo Dasuki (rtd), on corruption charges before two high courts of the FCT be brought to one court.
The Chief Judge gave the order on friday at the instance of counsel in the matters, following a complaint by Dasuki that putting him on trial in two different courts on the same issues was an abuse of judicial process that would cause double jeopardy and prejudice.
Prosecution counsel representing the Federal Government in the matter, Rotimi Jacobs (SAN), yesterday told newsmen that the charges in the two different courts would now be conducted by a single court to ensure effective and speedy trial of the case.
Jacobs also said with the movement of the charges into one court, the issue of consolidation of the charges would no longer arise, having been overtaken by events.
At a previous sitting of the court before Justice Hussein Baba-Yusuf on October 5, this year, the Federal Government agreed to consolidate the criminal charges filed against Dasuki and others.
Jacobs and Counsel to the defendant, Joseph B. Daudu, both agreed before Justice Baba Yusuf to formally write the CJ to consolidate the two charges in the interest of justice.
The senior Counsel, therefore, applied to Justice Baba-Yusuf to adjourn the matter, pending the time the CJ would consider the application for consolidation.
Justice Baba-Yusuf, who was then billed to give ruling on Dasuki's motion for consolidation at that sitting, put off the ruling considering the understanding between the prosecution and the defence.
He adjourned till October 21, 2016.
The CJ, after meeting with Counsel in the matter on the adjourned date, ordered the transfer of charges before Justice Peter Affem to the court of Justice Baba-Yusuf as the only Judge that would now preside over the case and conduct the trial.
guardian.ng