The Faculty of Law of Ebonyi State University is set to host the maiden edition of the Future Lawyer Series on Friday 22 November 2019.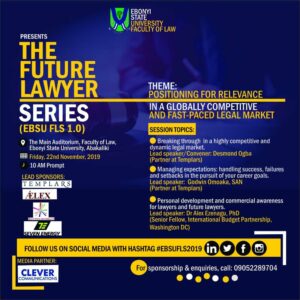 The Future Lawyer Series is an initiative of Desmond Ogba, a partner at Templars, and it is designed to deal with issues that have become of increasing concern to prospective and young lawyers. Issues of employability, career direction, specialisation, personal development, commercial awareness, networking, relationship building, making informed decisions on career paths including branching out of law, mentoring and handling professional mistakes and setbacks, are constantly on the front burner of the affairs of prospective and young lawyers. The Future Lawyer Series was therefore birthed to provide a platform for respectable and inspiring seasoned and experienced lawyers to educate prospective and young lawyers on these issues.
The theme of this year's Future Lawyer Series is "Positioning for Relevance in a Globally Competitive and Fast-Paced Legal Market", and will feature three different sessions on; (i) Breaking through in a highly competitive and dynamic legal market; (ii) Managing Expectations: handling success, failures and setbacks in the pursuit of career goals; and (iii) Personal development and commercial awareness by lawyers.
The speakers and panellists are drawn from a mixed pool of experienced/young and outstanding lawyers some of whom are in private law practice, the academia and leading multinationals including Godwin Omoaka (Senior Advocate of Nigeria and partner at Templars); Reginald Aziza (triple first class awardee and attorney at Chevron); Kenneth Okwor (a distinguished Rowan Williams Scholar and Doctoral Student at the University of Cambridge); Stanley Nwaeke-Eze (Harvard and Cambridge trained arbitration and litigation associate at Templars); Chinedum Umeche (seasoned commercial litigator and Senior Associate at Banwo & Ighodalo); Uzochukwu Ozoh (an excellent gas attorney and contracts advisor at Chevron); Gabriel Nwodo (first class graduate, university valedictorian and associate at Aelex); Alexander Ezenagu (Senior Fellow at the International Budget Partnership, Washington DC, and Assistant Professor at HBK University, Qatar); Adetola Onayemi (Head, Trade Remedies and Investigating Authority & Assistant Chief Negotiator for Nigeria at the Nigerian Office for Trade Negotiations); Desmond Ogba (Energy, Finance and Projects Partner at Templars); Prince Nwafuru (key associate at Paul Usoro & Co); Chukwu Nwani (renowned energy lawyer and CEO, Kessington Energy Limited); Solomon Alo (star legal counsel at Seven Energy International); Collins Ogbu (multiple academic awardee and associate at Templars); Chioma Omaka; Chidimma Okwuegbu; and Rita Okafor (all first class graduates from the Nigerian Law School).
The event is supported by Templars, Aelex, Banwo & Ighodalo and Seven Energy International and is being hosted at no cost to the attendees.
The Future Lawyer Series is intended to be a periodic event to be hosted in different parts of Nigeria.