On the 22nd of November 2016,Nigeria's legal community lost one of its best and most loved Senior Lawyers.
Two years after his demise,Courtroom Mail continues to remember him.
OBI OKWUSOGU,SAN,FCLArb was the son of Late Mr.Ernest Osi Henry & Mrs.kate Okwusogu of umudei & ogboza village respectively in Onitsha. He attended Ladi-Lak institute, yaba,Lagos; Anglican Boys Grammar school, oraifite; Dennis Memorial Grammar School, Onitsha and St.Patricks College ,Asaba for his secondary school Education. He proceeded to the United Kingdom in 1972 for his 'A' Levels and undergraduate studies. He started off at the Kilburn Polytechnic,London and then proceeded to read Economics at the University College,Cardiff (University of Wales) and graduated with a B.SC (Econs) degree in 1978.He went to the Inns of court school of Law,London and was called to the Bar in Grays Inns in England in 1981.On his return to Nigeria he went to the Nigerian Law School and was called to the Bar in July,1982.He then began his legal career in the chambers of Mr H.A.Lardner,SAN and quickly rose to the position of Deputy Head of Chambers.He was appointed a Notary public in 1988 and served on the council of Legal Education, the Legal Aid Council and the General council of the Bar.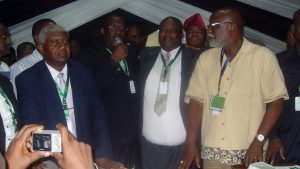 In 1989,he set up the law firm of C.O OKWUSOGU&CO. He was in active legal practice and consultancy till his demise.As a very active member of the Nigerian Bar Association,he was elected and served as General Secretary of the Association  (NBA) between 1998-2000.He was elevated to the rank of Senior Advocate of Nigeria(SAN) in 2008.He was a Life Member of the Body of Benchers (the highest Legal Body established by the Law to regulate the Legal Profession ).Aside from his professional life,Obi was a devout Christian and a staunch family man.He was united in holy matrimony to uju Okwusogu (nee Okosieme) in 1992 and they are blessed with 2 children.He is also survived by a brother,three sisters and numerous relations.He was a committed member of the Anglican Communion at the chapel of the Healing Cross where he served as a member of the board of Trustees. Within his chambers, he played host to a lot of young legal professionals by taking them under his wings and leading them along the right path. This gesture was not confined to the four walls of the chambers as he was well known across all walks of life.
He was also well known for his humility, his unrivaled sense of humour, his love for the arts and music. He was fondly described as a 'gentleman to the core'. He was very active in the promotion of onitsha culture and tradition. He was a past president of Onyeoma Eko Age Grade (Formerly Onyeoma Ejiogu).He will be missed by all. Adieu!