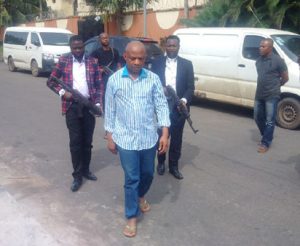 Justice Hakeem Oshodi of the Lagos State High Court sitting in Ikeja on Thursday frustrated attempt made by the  notorious kidnap kingpin's lawyer, Olukoya Ogungbeje, to adjourn Evans trial.
Ogungbeje, counsel for Chukwudubem Onwuamadike, alias Evans, prayed for an adjournment after they were served an amended charge.
Evans and his accomplices on August 30 were arraigned before the court on two counts bordering on kidnapping and conspiracy.
However, Evans and two others pleaded guilty to the charges while the remaining defendants pleaded not guilty.
At the Thursday's proceedings, Ogungbeje told the court to grant him an adjournment to be able to confer with his clients about the amended charge.
"My Lord on behalf of the first and second defendants, the amended charge was served on us this morning.
"We had earlier filed an application on behalf of the first defendant and the prosecution just served us their counter affidavit this morning in court.
"If my lord would oblige us a date to confer with the first and second defendant about the amended charge.
The lead prosecutor, Titi Shita-Bey, opposed the application for adjournment.
She said, "We're opposing their application for adjournment, we pray that this court allow the charge to be read to the defendants and they should take their plea.
"Section 155(1) of the Administration of Criminal Justice Law does not allow any formal application to amend charges, all the court need to do is to take fresh plea from the defendants.
"The application for adjournment was calculated to delay this matter by the defense counsels; the particulars of the offence did not change just the count two which the law under which was stated was changed and the punishment.
However, Justice Oshodi, urged Ogungbeje to confer with his clients in the court so that the defendants could take their plea.
Reacting to this, Ogungbeje said, "The atmosphere and the environment is not condusive to confer with my client.
"The prosecution should be diligent enough to have served us the amended charge before today.
However, Justice Oshodi stood the matter down for 45 minutes for the counsels to confer with their clients.
Punch