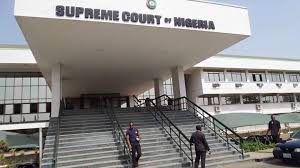 President Muhammadu Buhari has requested the Senate to consider and confirm the nominations of two judges as Justices of the Supreme Court.
The Senate President, Bukola Saraki, read the letter conveying the request after the Senate returned from closed-door session on Tuesday.
The nominated judges are Sidi Bage, Nasarawa State, North Central; and Paul Jauro, Taraba State, North East.
In the letter read by Mr. Saraki, Mr. Buhari said his request followed Section 231(2) of the Constitution of Nigeria, as amended.
The President sought expeditious attention of the Senate, Mr. Saraki read.
Mr. Jauro, who was born on June 26, 1954, became judge of the High Court in 1998. Ten years afterwards, he was appointed Justice of the Court Appeal.
Mr. Bage, born on June 22, 1956, became Federal High Court Judge in 1992 before his appointment as Justice of the Court of Appeal in 2000.
The two Judges had been recommended for appointment as Justices of the Supreme Court by the National Judicial Council.
Their nominations came amid a clampdown on allegedly corrupt judges in the High, Appeal and the Supreme Courts, by the State Security Service.
Of the 15 said to be under investigation, seven were arrested weekend.
They were granted bail on Monday on self-recognisance.
CULLED -premiumtimesng.com