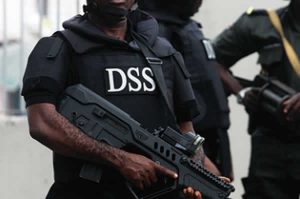 The Department of State Services has finally produced the detained former National Security Adviser, Sambo Dasuki, in compliance with an order of the Federal High Court in Abuja, that the ex-NSA should appear as a witness in the ongoing trial of a former Publicity Secretary of the Peoples Democratic Party, Mr. Olisa Metuh.
He was produced by DSS operatives ahead of the Wednesday's proceedings which commenced exactly 9 am.
He was decked in a light blue attire with a cap to match.
On Tuesday, despite the request by defence lawyers for an order of arrest to be issued against the Director-General of the DSS, Lawal Daura, for failing to produce the ex-NSA in court, the trial judge, Justice Okon Abang ruled that he could not yet conclude that the DSS top man deliberately flouted the court order.
But the counsel prosecuting Metuh and his company, Destra Investments Limited on behalf of the Economic and Financial Crimes Commission, Mr. Sylvanus Tahir, had informed the court on Tuesday that the Legal Adviser of DSS informed him over the telephone that Dasuki refused to be brought to court except by force.
Tahir later told the judge that he received a text message from the Legal Adviser of DSS saying after much persuasion, Dasuki agreed to appear in court on Tuesday.
But the judge had ruled on Tuesday that whether or not Dasuki and another subpoenaed witness, former President Goodluck Jonathan, would go ahead to testify would depend on the outcome of the court's rulings on the summoned witnesses' application objecting to Metuh's request for them to testify in the case.
punch