The friends of Dr Babatunde Ajibade will, this evening, hold a hangout in Awka tagged An evening sit-out with Dr Babatunde Ajibade SAN and Members of the Bar in Awka.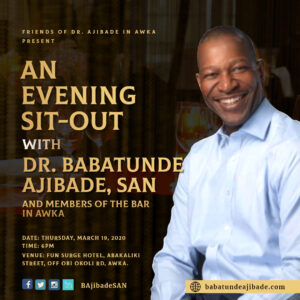 The sit-out will be by 6pm at Fun Surge Hotel, Abakaliki street, off Obi Okoli Rd, Awka.
Members of all the Nigerian Bar Association branches in Awka are expected to attend.