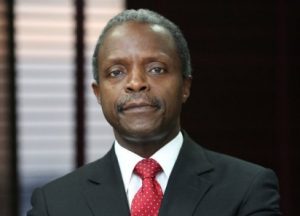 Vice President Yemi Osinbajo has admitted that he made a mistake in announcing the sum of $2 billion as the money released by the Sovereign Wealth Fund (SWF) for the implementation of the second Niger bridge.
He said in Abuja on Tuesday that he actually meant to say N2 billion while speaking during the flag off of the All Progressive Congress (APC) gubernatorial campaign in Anambra State recently.
According to a statement issued by his spokesman, Laolu Akande, the Vice President "misplaced the figures."
The statement said: "During the APC Governorship campaign flag-off in Onitsha, Anambra State, on Friday, October 20, 2017, Vice President Yemi Osinbajo, SAN, had reiterated the Buhari administration's commitment to keeping its promises to the Nigerian people.
"One of these promises is the construction of the second Niger Bridge.
"In the official press release I sent on the Vice President's remarks during the campaign rally in Onitsha that same day, I did quote the VP as saying that 'the Sovereign Wealth Fund paid N2 billion for that same project (Sum paid to the contractor: Julius Berger for early works). We will definitely see our second Niger Bridge, we will not make promises we cannot keep.'
"However, a short video clip from the event captured on the news segment of a television channel quoted Prof. Osinbajo as mentioning '$2bn' and not 'N2bn,' which was what he had actually meant to say. Mentioning the dollar currency was inadvertent.
"As it happened, the excerpt from the video, which was shared online, was what was quoted in the headlines of some media houses, and in comments on social media.
"The figures were misplaced. Kindly set the records straight, from the speech I had sent.
"It is also pertinent to state that the highlight of the rally and Prof. Osinbajo's remarks was the commitment of this administration to improve the country's transportation network and economy."
tribune