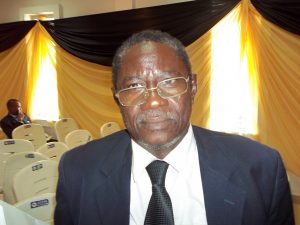 I shook his hands for the first time on the 20th of August 2009. Only very few Lawyers will remember the historic event of that day.  I will remind you. The year 2009 is remarkable to me.It was the year that set my career for the future as a lawyer because it was the year I met the most wonderful people in the law profession. I was taught by the Catholic Church that humility and speaking out against evil are virtues.  Then I left my home, Alas! I found myself in a society where humility is treated with disdain, speaking out seen as foolhardiness.  My vision went blank.  In the blankness of my vision, I saw some few lights shining into the dark chaos of pride and timidity, where people believe that a life of "Packaging" excluded humility.  One of the lights that shone very brightly in the intimidating dark cover of our society ravaged by empty pride, arrogance and gross timidity in taking a stand was Musa Usman Ibrahim popularly known as Jam Jam in the legal profession in Nigeria.  That light went off in the early hours of this morning.  He died a good man.  May his soul rest in peace.
I was about 6 years at the bar when I got that first hand shake, after that, I got many more from him.  In all, one particular handshake stood out.
On the 5th of May 2011, the Nigerian Bar Association Lagos under the chairmanship of Chijioke Okoli (Now S.A.N) honoured six outstanding members of the branch. One of them was Musa Usman Ibrahim.
The organizing committee was led by a wonderful woman named Joyce Oduah.  Shortly after I stepped into the Multidoor Courthouse hall where the event took place, Joyce Oduah picked me from the Crowd and handed over some loose sheets to me instructing me to put the contents together.  I resisted on two grounds which included that I wasn't a member of the committee but she insisted. I am happy I finally did.
The loose sheets were handwritten Bio and CV of Jam Jam.  He had brought it to the venue like that.  I had 10 minutes to develop it to his citation.  I delivered and again, Joyce Oduah insisted that I be the one to read it at the event.  I did and after that day, a very special friendship began between I and Jam Jam.  It was after that citation that I got the outstanding handshake. Jam Jam a man called to the bar the year I was born, walked up to me and greeted me with a baffling sense of humility that blew me away. It was an honour to have written and read his citation. I will still tell you about that first handshake.
M.U Ibrahim was not just a humble man, he was fiercely courageous.  He spoke out against the evils in the law profession and the country without fear or favour. Many lawyers look up to his contributions at the various NBA-NEC meetings. We will miss him.
In 2010 at the Annual Conference of the Nigerian Bar Association in Kaduna, he was in a panel that discussed the S.A.N abolition agitation which has engulfed the law community in Nigeria at the time.
That panel was moderated by Prof. Ernest Ojukwu.
Jam Jam stood up and made a courageous case against the S.A.N title. Lawyers erupted in jubilation, a jubilation which today still echoes in the minds of those who were in that hall on that day in August 2010.
What happened in that hall was a follow up to what happened at the NBA Conference in Lagos the previous year on the 20th of August.
The annual conference of the Nigerian Bar Association in 2009 was held in Lagos. On the 20th of August, Tunji Gomez moved the historic motion to abolish the rank of Senior Advocate of Nigeria. M.U. Ibrahim was there. When he spoke on the issue, almost everyone in that hall fell in love with him not because they all agreed with him but because his courage was infectious. As a young lawyer that just started a publication, I had my camera everywhere and I captured his images as he turned around every second to shake lawyers who offered their hands to shake him. He became an instant celebrity for people who didn't know him before then. I was one of them. I joined other lawyers on the queue to get a share of the handshake, I sure did.
M.U Ibrahim was a crack litigator. In court, he was a colossus. As our friendship evolved, I began to carry his files to court,I began to do some of his matters. I needed to equip myself with litigation experience and Jam Jam gave me that platform. He was very generous. I was switching off the gas cooker I bought with the money he gave me on one of the occasions I went to court for him when the sad call came in. Jam Jam has passed. The voice on the other side told me. I froze. Another good man is gone.
M.U Ibrahim,was a good man, unfortunately, his demise will leave behind a painful vacuum that I am sure will never be filled. May he rest in peace.
Anthony Atata- Publisher, Courtroom mail