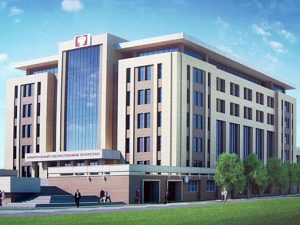 The President of Poland has been urged to veto a bill passed by lawmakers in the country that would give parliament the power to appoint Supreme Court judges.
Guy Verhofstadt, the President of the Alliance of Liberals and Democrats for Europe in the European Parliament, has called on President Andrzej Duda to take action and said the European Commission should trigger the EU's Article 7 if the issue is not resolved.
The Article has been often described as a "nuclear option" and can lead to the suspension of a member country's voting rights.
"The European Parliament made it clear earlier this week that these new laws are incompatible with EU Membership and would irredeemably weaken Poland's future place in the West," Mr Verhofstadt said.
He also took to Twitter to claim the "blitz against Polish judiciary [was] completed".
Blitz against Polish judiciary completed: law on #SupremeCourt adopted. President Duda must veto it, otherwise let's trigger #Article7
— Guy Verhofstadt (@GuyVerhofstadt) July 20, 2017
European Council President Donald Tusk, who is also a former Polish prime minister, called for an urgent meeting with President Duda to discuss the "political crisis" in the country.
Mr Tusk described the move as backwards backward and said it went "against European standards and values".
"The European Union is not only money and procedures. It is first and foremost values and high standards of public life. That is why a wave of criticism of the government is rising in Europe and in the whole West," Mr Tusk said.
The bill was passed despite objections from lawyers and opposition politicians after critcisms it undermines democracy and the rule of law.
The move would put courts under direct government control and Poland's human rights ombudsman, Adam Bodnar, told parliament that the legislation, would "deprive citizens of the right to an independent court".
"We are planting an explosive under our judiciary," he said.
Since being elected in 2015, the Law and Justice party (PiS) has tightened its control over courts and prosecutors, as well as state media, and introduced restrictions on public gatherings.
Parliament has already passed a bill which ends the terms of current members of the National Council of the Judiciary, one of the main judicial bodies, and gives parliament powers to choose 15 of its 25 members.
independent