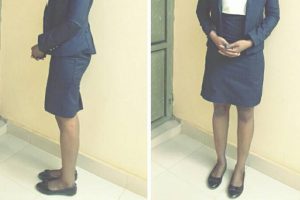 A Ugandan student has told how she was stopped from going to class because her skirt was "too short."
Joaninne Nanyange, a law student in the country's capital, Kampala, posted a picture of her outfit on Facebook saying she was barred from class because her knee-length skirt was "distracting to men and boys."
Ms Nanyange said that on arriving at her law faculty she noticed there was policewoman at the door.
She wrote on Facebook: "The uniformed woman flagged me down and being the law abiding citizen that I am, I stopped.
"She asked me to pull my skirt down to see how far down it could go. I burst into laughter. Her request didn't make sense."
Ms Nanyange said when she told the woman she couldn't pull her skirt down any further she was told she could not enter campus.
When she protested, the woman told her that wearing a skirt like that might "attract" the male students and "bar them from concentrating."
Speaking to the BBC programme World Have Your Say Ms Nanyange said: "What I found most ridiculous was that my skirt really wasn't that short for any standard, even legal profession standards.
"And secondly, the reason they gave me…it wasn't about the fact that your profession requires you to have this length of skirt, it was about the fact that if you go with this length you'll distract the men and boys.
"That is what I found most shocking and more infuriating."
Ms Nanyange linked the incident to wider issues of women's rights in Uganda saying an institute of higher education should know better.
Uganda came 163rd out of 188 countries on the 2014 United Nations Gender Equality Index.
culled from standard.co.uk