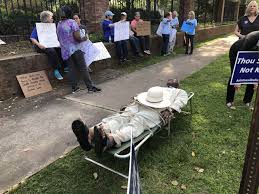 The judge who on Friday barred Arkansas from executing six prisoners in rapid succession followed his ruling by attending an anti-death penalty rally, where he lay down on a cot and bound himself as though he were a condemned man on a gurney.
Judge Wendell Griffen's participation in the protest outside the Arkansas governor's mansion sparked outrage among death penalty supporters, including Republican lawmakers who described it as judicial misconduct and potential grounds for Griffen's removal from the bench.
Arkansas attorney general Leslie Rutledge on Saturday asked the state's highest court to vacate Griffen's ruling and asked for a new judge to be assigned the case.
Griffen, a Pulaski County circuit judge, ruled against the state because of a dispute over how the state obtained one of its execution drugs. In an interview on Saturday, he said he was morally opposed to the death penalty and that his personal beliefs alone should not disqualify him from taking up certain cases.
"We have never, in my knowledge, been so afraid to admit that people can have personal beliefs yet can follow the law, even when to follow the law means they must place their personal feelings aside," he said.
On Friday, Griffen granted a restraining order preventing Arkansas from using its supply of vecuronium bromide, one of three drugs it uses in executions, because the supplier said the state misleadingly obtained the drug.
The ruling came a day before a federal judge halted the executions on different grounds. The back-to-back decisions upend what had been a plan to execute eight men in 11 days, starting on Monday, because the state's supply of one of the other execution drugs expires at the end of the month.
Griffen declined to comment on the demonstration or his ruling, saying he would address any questions about it at a hearing he scheduled for Tuesday.
Citing the judge's participation in anti-death penalty events before and after issuing his ruling, attorney general Rutledge wrote on Saturday: "This court should put a stop to the games being played by a judge who is obviously unable to preside over this case impartially."
Lawmakers have suggested the move may be grounds for the Arkansas House to begin impeachment proceedings, saying the demonstration and a blogpost Griffen wrote on the death penalty this week may amount to "gross misconduct" under the state constitution.
"He is outside the bounds of normal behavior for most judges probably anywhere in America," Republican state senator Jason Rapert said.
It is also unclear whether the move would prompt action from the state's judicial discipline and disability commission. Griffen, who served 12 years on the state appeals court, has battled with the panel over remarks he made criticizing George W Bush and the war in Iraq. The panel ultimately dropped its case against him.
Griffen said he would not consider a person's participation in an anti-execution event enough, on its own, to warrant disqualifying a juror from a death penalty case. The question, he said, is whether the juror could set his or her personal views aside and follow the law.
"We do not require people to come into court with blank slates, either in their minds or their heart," he said.
The Guardian