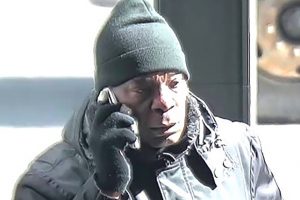 A Nigerian journalist and former United Nations employee was busted for robbing four Manhattan banks — all during his lunch hour, authorities said.
Abdullahi Shuaibu, 53, was picked up by cops Monday and hit with two counts of robbery and two counts of attempted robbery for the crimes committed during his two-month spree.
All four banks are within walking distance of his office at the Foreign Press Center inside the US Mission to the United Nations, which is across the street from the UN building.
The Nigeria native works as a journalist for an African news agency, police said.
Authorities were led to the thief after a retired police officer who works as a guard at the US Permanent Mission to the UN recognized Shuaibu from a surveillance image previously released by the NYPD.
"It wasn't hard [to recognize him]," the guard told The Post. "He comes in and out of here every day."
In the first incident, Shuaibu walked into a Santander Bank on Madison Ave. near E. 43rd St. on Feb. 27 and told the teller he had a gun. The bank employee complied and handed Shuaibu an unknown sum of money.
He hit two more banks during the month of March, first striking out at a Bank of America on Third Ave. near E. 47th St. on the 13th. He was successful in robbing a Santander Bank on Third Ave. and E. 63rd St. on the 27th.
During the most recent incident on Monday, Shuaibu walked into an HSBC on Third Ave. and E. 40th St. around 2:30 p.m. and passed a note demanding cash to the teller. The teller did not read the note and asked Shuaibu for identification.
He then instructed the employee to read the note, keeping his hand in his jacket pocket while simulating a gun, police said.
Police arrested him later in the day when he returned to the UN.
One of Shuaibu's colleagues at the Foreign Press Center said they are "all in shock right now."
A UN spokesman said Shuaibu worked briefly for the United Nations for a couple of months in the fall of 2013, but hasn't had access to the facility since leaving in November of that year.
"[He] is not an employee of the United Nations nor is he an accredited journalist to the United Nations," UN spokesman Stephane Dujarric said.
New york post