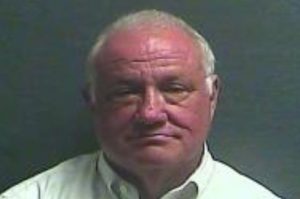 An ex-Kentucky judge with a reputation as a "law-and-order" jurist is accused of forcing 17 women into having sex with him in exchange for money and drugs.
Tim Nolan, 70, faces more than 100 years behind bars on 20 counts including human trafficking, rape and prostitution in a case that local lawyers called stunning.
"In this day and age, it's hard to be shocked, but I was shocked when I heard this," said attorney Stephen Wolnitzek, who's known Nolan for decades.
Prosecutors said five of Nolan's alleged victims included juveniles and drug addicts and that he'd use his stature as a former judge to coerce them into sleeping with him between 2010 and 2017.
He was arrested in April.
"The defendant used money, drugs, housing, threats to call the probation office, and violent acts, as means to coerce, deceive and force these women to engage in commercial sexual activity, for months and sometimes years," Assistant Attorney General Barbara Whaley wrote in court filings.
One victim, who was homeless and addicted to heroin, told cops she had sex with Nolan more than 50 times and depended on him for meals, money and transportation, according to the Kentucky Enquirer.
Nolan served as Campbell County district judge between 1977 and 1985.
"He liked to give the impression to the public that he was a tough law-and-order judge," said Justin Verst, an assistant county attorney during Nolan's tenure.
Nolan's wife Julia died last year and their daughter is a clerk with the Campbell County circuit court.
He has vehemently denied the charges. His lawyer, Margo Grubbs, has said they'll challenge the constitutionality of the state's human trafficking statute as "vague" an "difficult to apply."
nypost