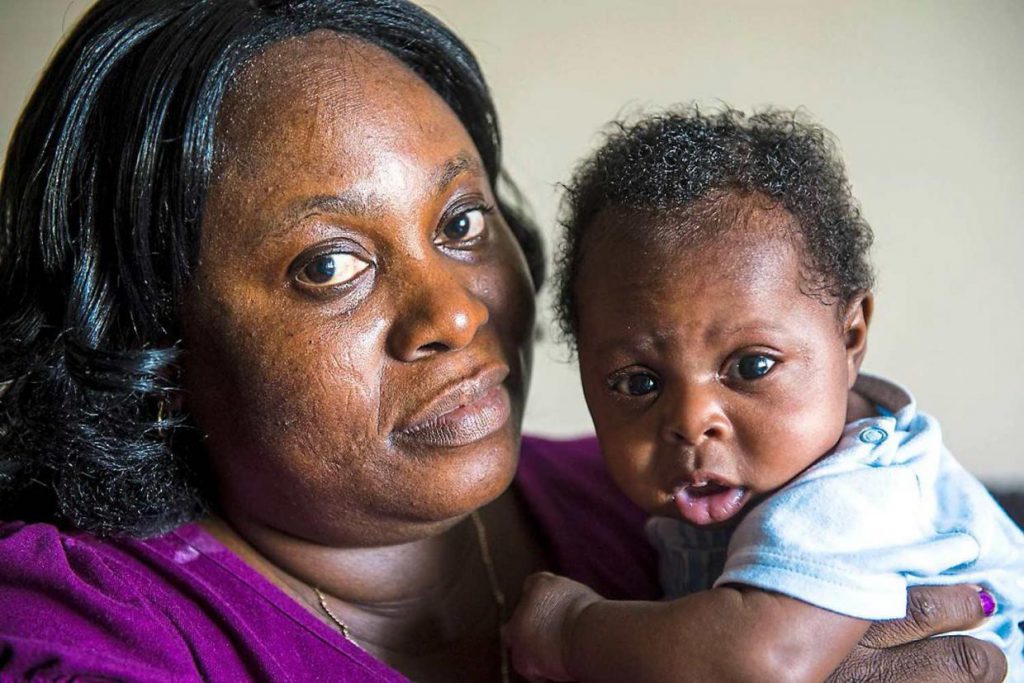 A woman in labour was punched in the face by a mugger who stole her phone as she tried to call her family.
Patience Chukwu, 40, had left her home in north London to take a bus to hospital and was having contractions when the man swiped her Samsung Galaxy from her hands.
She said: "I took out my phone to call my sister and tell her I was on the way to the hospital when the boy came up to me.
"He stood in front of me and I thought he was about to ask for directions. He was standing there staring at me and then he snatched the phone from me.
"As he grabbed it, I grabbed him by the hood. I was trying to recover the phone. He just hit me. He went to hit me in the stomach, so I bent double and the blow hit me in the face.
The attacker got on his BMX to flee but Ms Chukwu grabbed him. "He was dragging me and I was screaming," she said.
"Then he hit me for a third time and I went blind for a short time. So I let go and he was gone.
"It was horrifying. I sat there afterwards shaking and shivering."
Ms Chukwu was initially treated on the street by police after the assault, which took place on a Sunday at about 10am in Leadale Road, Stamford Hill.
She was taken to Homerton hospital, where medics took her into theatre for a Caesarean section after being unable to detect her child's heartbeat.
Her son, Kamsi Kishi, was born hours later with complications. He suffers from seizures, which police today said are a result of the June 26 attack.
Ms Chukwu was not able to visit her child, now eight weeks old, until the next morning and could not take him home for a week while doctors kept him under observation.
Police have now released an e-fit of the suspect. Investigating officer Detective Inspector Paul Ridley admitted: "The e-fit is our last line of enquiry. We've exhausted everything else. We're appealing for information from friends, relatives and even criminal associates. Given the nature of the act, I'm sure a lot of criminals would have been shocked.
"We have a woman on the brink of giving birth subjected to an attack like that in broad daylight just for her mobile phone."
The suspect is described as a thin black man aged between 18 and 21 with short dark hair. At the time of the attack, he was wearing a green hooded jumper.
Ms Chukwu, who also has a four-year-old daughter, Kika, said: "I didn't expect that a heavily pregnant woman in labour would be robbed. My belly would have been huge.
"As he was robbing me I was begging him, 'Please, I'm in labour, please'.
"That boy is wicked and I want  them to catch him before he attacks someone else."
Ms Chukwu also thanked members of the Jewish neighbourhood watch group Shomrim who rushed to her aid following the ordeal.
Volunteer Pinchas Paksher was first on the scene to help the woman.
Shortly after the attack, he said: "The thief was heartless, targeting the most vulnerable in society, the victim was on the phone seeking help to arrange transport to hospital when her phone was snatched. I urge anyone with information to call police or Crimestoppers."
standard.co.uk