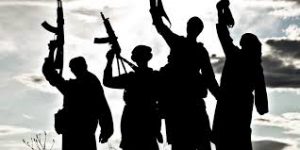 Kids sure can be a terror — but not like this!
A 3-month-old baby was barred from a flight to Florida on suspicion he was a terrorist.
Young Harvey Kenyon-Cairns and his family were preparing for a trip from England to Orlando, Fla., when the tot was summoned to the US Embassy in London because his grandfather accidentally checked a box on a visa waiver claiming the tyke was a foreign agent.
Granddad Paul Kenyon checked "yes" next to a box on the form that read: "Do you seek to engage in or have you ever engaged in terrorist activities, espionage, sabotage, or genocide?" according to The Guardian.
The family smoothed everything out — but only after traveling 10 hours from their Cheshire home to the embassy in London for questioning by US officials, Kenyon said.
"Baby Harvey was good as gold for the interview and never cried once," Kenyon told The Guardian. "He's obviously never engaged in genocide, or espionage, but he has sabotaged quite a few nappies (diapers) in his time, though I didn't tell them that at the US Embassy."
Family and officials eventually sorted everything out, but the baby did not get his visa in time for the family's flight.
The granddad and some other relatives went ahead to Florida — and the baby and his parents met them there a few days later.
Kenyon was shocked that one small error could cause so much confusion, he said.
"It was a very expensive mistake, but I was hoping the US Embassy would realize that it was just a simple error without us having to jump through all the hoops," he told The Guardian.
The Guardian