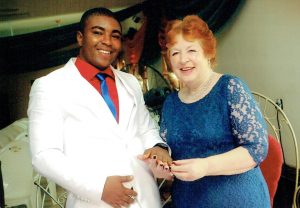 A 72-year-old retired cab driver, Angela Nwachukwu, has lamented the denial of visa to her Owerri, Imo State-based husband, CJ Nwachukwu.
Angela said she was frustrated because since her marriage to CJ in April 2015, she had only been able to see him two times.
The pensioner, who is based in Dorchester, Dorset, has three children aged 50, 47 and 43, with many grandchildren.
She has also been married twice and recently disengaged from a 16-year relationship.
In an interview with a United Kingdom-based tabloid, The SUN, she said she met CJ on Facebook after the computer engineer sent her a message, complimenting her profile photo.
She noted that after chatting for three months, the 27-year-old asked for her hand in marriage and she agreed to marry him, adding that her trip to Nigeria for their wedding in 2015 was their first time of meeting face to face.
The grandma, however, lamented that since the marriage was consummated, CJ had been denied visa three times, saying she had spent over £20,000 visiting him and trying to get him into the UK.
She said, "CJ is the most caring man any woman would want to be with.
"He makes me feel like the most beautiful woman in the world. I know in my heart we belong together, and we won't stop fighting until we can be together as husband and wife. We won't let this break us.
"After the wedding, I found it hard leaving CJ. I knew I'd see him again soon, but my family visa application was rejected.
"I was so determined to get him a visa that I hired lawyers to fight for us. I've since visited him twice.
"We've spent a combined £20,000, trying to see each other. I've used my savings and he has gradually paid me back half."
Angela had been single for six months following a 16-year relationship when she was contacted out of the blue by CJ.
She said, "After my relationship ended, I felt lonely. After being single for six months, I saw a gorgeous young man had sent me a friend request on Facebook.
"I did wonder why he added me, but I accepted and he sent me a message telling me how lovely my profile photo was.
"He was handsome, with big, brown eyes, and a body to match. I didn't see the harm in striking up a conversation with him.
"We chatted for hours about our families and hobbies. It was like we'd known each other for years. Before I knew it, we were messaging daily.
"The only problem was that he was 45 years younger and lived 4,000 miles away in Nigeria."
She said her first son, Malcolm, after hearing about CJ became worried, thinking she had fallen to a scam.
She added that after the 50-year-old ran a check on him on Facebook, he became convinced that he was genuine.
After messaging each other in February 2015, CJ was said to have proposed over Skype, as his 72-year-old lover agreed.
"He was beaming at me with such a big smile on his face. Knowing I made him that happy was all the reassurance I needed. There was such an amazing chemistry between us," she added.
Angela said she was afraid that CJ might not like her when he finally get to see her in person, adding that her fear turned out to be unreal as her lover hugged and kissed her at the airport.
She described the wedding as the "happiest day of my life."
"I felt so lucky – but it was bittersweet, because I knew I had to go back to England," she added.
Angela, however, said she was shocked when her visa application for CJ was rejected on the grounds that they didn't have enough financial backing because she was retired.
She lamented that other attempts were also rebuffed by the immigration officials, as CJ was further denied a tourist visa.
"I'd waited so long for true love – and now I'd finally found it, it was being kept from me.
"I know there are scam marriages and they get hold of older people like me, but they find out if you have money first.
"I told CJ from the beginning I haven't any money. But he told me, 'It's you I want'.
"I know what goes on and that's why I was upfront. I have helped CJ financially, but he has always paid me back," she added.
Since the marriage, Angela has visited her husband in Nigeria twice – in March 2016 for three weeks, and another three weeks in January 2017.
She hopes to be permanently united with him in 2018 when she believes he will travel on a student visa for his master's degree in computing.
punch